Blog
Toothpaste Harmful to Your Health?
Jun 26,2008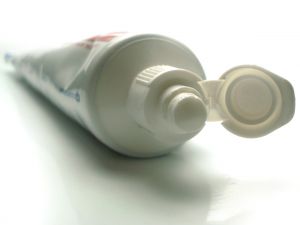 Toothpaste is something that we all use every day (well, at least I hope we brush every day!) and you would not suspect that the ingredients in toothpaste could put your health at risk. After all, isn't toothpaste advertised as promoting good oral health, helping to prevent tooth decay and such? That is why I was again enlightened after reading the Dherb's article about toothpaste and other dental hygiene products. Check out an excerpt below:
If you do the research, you'll find that most commercial brand toothpastes contain ingredients such as sodium fluoride, propylene glycol, sodium laurel sulfate, sodium saccharin, polyethylene, Blue Lake #1, D & C Red #30 Lake, and FD & C Blue #1 Lake. Sodium fluoride is a toxic chemical used in RAT POISON! This stuff also dumbs you down as it works on the brain, including the part of the brain responsible for resistance, which is why this crap is put in the food in the public school lunch programs. This harmful chemical was even mentioned in Stanley Kubrick's movie, 'Dr. Strangelove', as being used in a negative light on people, i.e. mind control. Allegedly it was first used on the Russian people to help get them under submission (control) to the Russian government.
Interesting stuff isn't it? Check out the entire article below:
Beware of Toothpaste and Dental Hygiene Products!
COMMENTS
by Johnson, Feb 18,2011
reply
if toothpaste is harmful what then should we whom brush our teeth twice daily use to clean our teeth clean and healthy.
by Dentistry Roseville, May 11,2010
reply
Has this even been proven ? I don't really buy such claims until it is backed up by facts. Probably a certain amount of fluoride can be harmful, though that found in toothpaste should be safe, I assume.
by Free Your Mind, Apr 05,2009
reply
This is a good article.

Yes... Fluoride. The Great Revolution Stopper.

It's the Pimp Juice Conspiracy!